Science Fiction in the News Articles
Related to material in Prima Donna 1980
by Frederic Brown
"WHEN television becomes an established, perfected mode of entertainment and the ownership of the centers of broadcasting becomes more concentrated — which present tendencies indicate as probabilities in the near future — problems galore, of astoundingly new and as yet undreamed of complications, must follow in natural sequence. A few of these problems — with their cleverly ingenious solutions — are propounded by our contributor from H. G. Wells' country. We are glad to welcome our new English author to our midst."
Read the story here.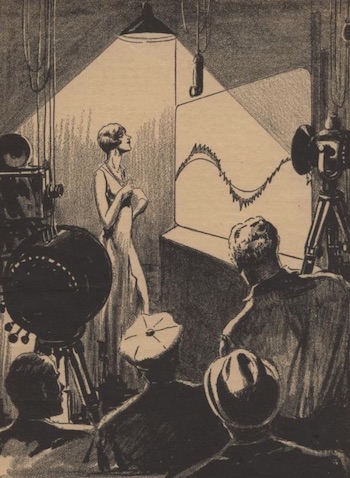 ('Prima Donna 1980' by Bernard Brown)
Science fiction in the News articles describe real-world events that relate to the ideas and inventions in sf novels and movies. Select a news article:
Vocaloid Voice - Soul Singing Synthesis
Are you tired of listening to poor quality voice synthesis? Had enough of those monotone recitations of email? Wondering what to do with all those song lyric sites strewn across the Internet? You're in for a treat.


Noise-Cancelling Windows With Piezoelectric Patches
Interesting new window prototype reduces noise by cancellation.


John Lennon Would Have Loved Auto-Tune - Paul McCartney
'It is the perfect voice.' Bernard Brown, 1931.

Technovelgy.com is devoted to the creative inventions of science fiction authors and movie makers. Look for the Science Fiction Invention Category that interests you, the Glossary of Science Fiction Inventions, the Timeline of Science Fiction Inventions, or see what's New.
Find new authors and technologies - Shop for yourself, your library and your lab.