Science Fiction in the News Articles
Related to material in Satellite Five
by John Barnes
Interesting space yarn about explorers who range the solar system to bring back the most interesting beasts for Earth zoos. No problems - until they encounter an enormous lizard-like creature that breathes flaming acid!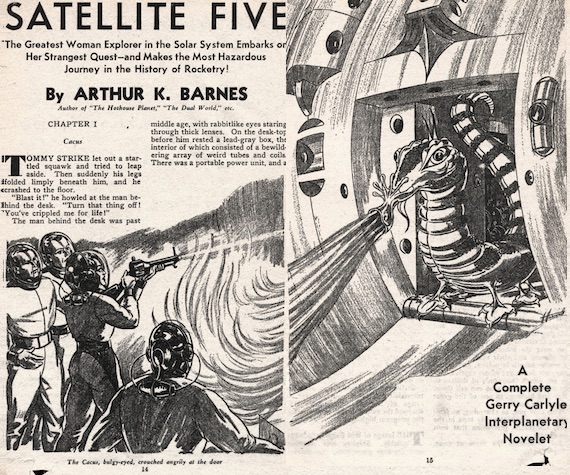 ('Satellite Five' by Arthur K. Barnes)
"The greatest woman explorer in the solar system embarks on her strangest quest - and makes the most hazardous journey in the history of rocketry!"
Science fiction in the News articles describe real-world events that relate to the ideas and inventions in sf novels and movies. Select a news article:
Paralysis Ray Uses Photocontrolled Molecular Switch
On the seventieth anniversary of the phrase 'paralysis ray' appearing in Thrilling Wonder Stories, we are now getting closer to these elusive rays.


US Special Ops Wants Paralysis Device
'I have invented a weapon, Miss Carlyle... A paralysis ray!'

Technovelgy.com is devoted to the creative inventions of science fiction authors and movie makers. Look for the Science Fiction Invention Category that interests you, the Glossary of Science Fiction Inventions, the Timeline of Science Fiction Inventions, or see what's New.
Find new authors and technologies - Shop for yourself, your library and your lab.