Science Fiction in the News Articles
Related to material in Space Tug
by Murray Leinster
Fifties space yarn has some fascinating ideas for space flight and space technology. The story itself is fairly simple; you'll want to read this one for the gadgets and situations. Very well imagined by Leinster.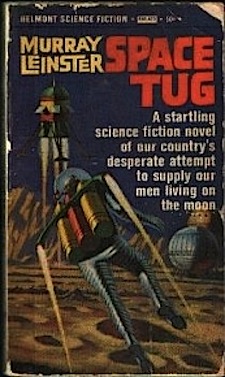 Science fiction in the News articles describe real-world events that relate to the ideas and inventions in sf novels and movies. Select a news article:
Launch-Abort Motor For NASA: The Next Generation
Testing the 'ejection seats' for the new Constellation space craft. And thanks to readers who made 2,000 SF in the News articles possible!


COLBERT Treadmill Long SF History
Here are at least three references to early exercising strategies in space. How many can you think of - before people actually spent much time in orbit?


Nano-Particle Field Extraction Thruster
A nanoFET is essentially a micro-thruster; a postage stamp-sized rocket engine. Great flexibility combined with long operational life make it perfect for small devices on long missions.


Adaptability Training System Helps Space Travelers Return
Not just for return to Earth, systems like this could help astronauts after a long weightless voyage to Mars.


Handy Zero-G Cup
Serving tea in space is harder than you might think.


Mini Ion Thrusters To Push Tiny Satellites
Perfect for pushing your cubesat around.


ARED Keeps ISS Astronauts Fit
'Joe got out the gravity-simulator harnesses... set for full Earth-gravity simulation.'- Murray Leinster, 1953.

Technovelgy.com is devoted to the creative inventions of science fiction authors and movie makers. Look for the Science Fiction Invention Category that interests you, the Glossary of Science Fiction Inventions, the Timeline of Science Fiction Inventions, or see what's New.
Find new authors and technologies - Shop for yourself, your library and your lab.