J. Harvey Haggard:
Science Fiction Technology and Ideas
John Harvey Haggard (b. 1913 - d. 2001) was an American writer and railwayman, known primarily for his stories in the early science fiction Pulp magazines, chiefly Wonder Stories.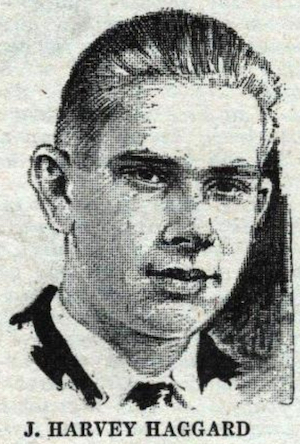 (J. Harvey Haggard)
His first story, "Faster Than Light" (October 1930 Wonder Stories) was written when he was seventeen in response to a contest in Air Wonder Stories and takes on the bold idea of accelerating to the speed of light and breaking through into a new universe.

New on Site
Aeropile
( 12/3/2023)
General Intelligence Machine
( 12/3/2023)
Interplanetary-Liner
( 12/2/2023)
Moon-Dome
( 12/2/2023)
Levitator Pack
( 12/2/2023)
Landing on the Moon
( 11/29/2023)
Personality-Construct (Lazarus)
( 11/25/2023)
Airchair
( 11/25/2023)
Meteor Hulls Ship
( 11/24/2023)
Asteroid Lanes (Blasted)
( 11/22/2023)