David H. Keller:
Science Fiction Technology and Ideas
David H. Keller (b. 1880 - d. 1966) was a psychiatrist and science fiction / fantasy / horror author. He earned his M.D. from the University of Pennsylvania in 1903. He served in the US Army Medical Corps during WWI and WWII as a neuropsychiatrist. He also used the pseudonym Henry Cecil.
"My story is that of a busy life — vocation, physician; avocation, writing. Always in my writing there has been the urge to attain, which goes far deeper than financial reward, or even the clamorous praise of the crowd, who will praise anything if the proper psychology is used on them. I was fourteen years old when I wrote my first story, and 47 when I had my first story accepted and paid for. There was a period during which I wrote for the sole pleasure of writing."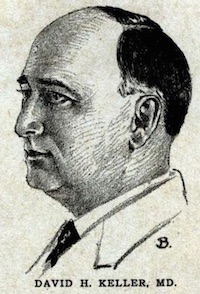 (David H. Keller, MD)

New on Site
Warp of Space
( 12/9/2023)
Moon Weaponized
( 12/9/2023)
Automonk
( 12/7/2023)
Specific Gene Weapon
( 12/7/2023)
General Intelligence Machine
( 12/3/2023)
Aeropile
( 12/3/2023)
Levitator Pack
( 12/2/2023)
Interplanetary-Liner
( 12/2/2023)
Moon-Dome
( 12/2/2023)
Landing on the Moon
( 11/29/2023)