Pa had sent me out to get an extra pail of air. I'd just about scooped it full and most of the warmth had leaked from my fingers when I saw the thing.

You know, at first I thought it was a young lady. Yes, a beautiful young lady's face all glowing in the dark and looking at me from the fifth floor of the opposite apartment, which hereabouts is the floor just above the white blanket of frozen air.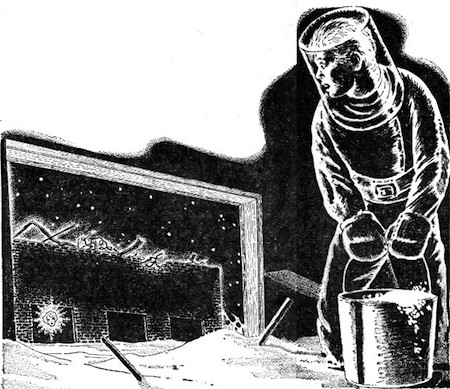 (From "A Pail of Air" by Fritz Lieber)
Pa handled the pail of air in a twist of cloth. Now that it was inside the Nest, you could really feel its coldness. It just seemed to suck the heat out of everything. Even the flames cringed away from it as Pa put it down close by the fire.
Yet it's that glimmery white stuff in the pail that keeps us alive. It slowly melts and vanishes and refreshes the Nest and feeds the fire...
You see, when the Earth got cold, all the water in the air froze first and made a blanket ten feet thick or so everywhere, and then down on top of that dropped the crystals of frozen air, making another white blanket sixty or seventy feet thick maybe.
Of course, all the parts of the air didn't freeze and snow down at the same time.
First to drop out was the carbon dioxide—when you're shoveling for water, you have to make sure you don't go too high and get any of that stuff mixed in, for it would put you to sleep, maybe for good, and make the fire go out. Next there's the nitrogen, which doesn't count one way or the other, though it's the biggest part of the blanket. On top of that and easy to get at, which is lucky for us, there's the oxygen that keeps us alive. Pa says we live better than kings ever did, breathing pure oxygen, but we're used to it and don't notice. Finally, at the very top, there's a slick of liquid helium, which is funny stuff. All of these gases in neat separate layers. Like a pussy caffay, Pa laughingly says, whatever that is.