Louder, even louder, became that snapping and roar of falling timber, and now a shape began to loom up at the top of that long slope, a gigantic shape that was moving rapidly toward the basin.

On it came, until its whole bulk was in view, poised on the ridge, and Lanier jerked with astonishment, for the thing was a mighty wheel, a wheel that must have been at least fifty feet taller than even the immense fighting-machines, whose huge, shining spokes and broad, point-studded rim were of smooth metal, and at the hub of which swung a square, boxlike structure of the same material...

"Detmold!" Lanier's cry was like a trumpet call, a scream of comprehension and gladness and faith. "Detmold!" He had constructed the wheel to crush the metal brain and its minions, had built it up using the tentacle-machines as his own tools, controlling them in the way he had thought, fighting the metal brain with the instruments of its own making.

And now the great wheel was slowly rolling down the slope toward the outermost metal giant. There was no sound to indicate the source of the wheel's motive power, but Lanier little doubted that Detmold had seized and utilized the same secret of atomic power that had been used by the brain for its own creatures.

...the wheel lumbered down to the basin, until it was but a few hundred feet above the outer fighting-machine. Suddenly the inaction of the latter ended and one long arm flashed out, holding a globe from which the deadly gas spurted toward the hub of the wheel.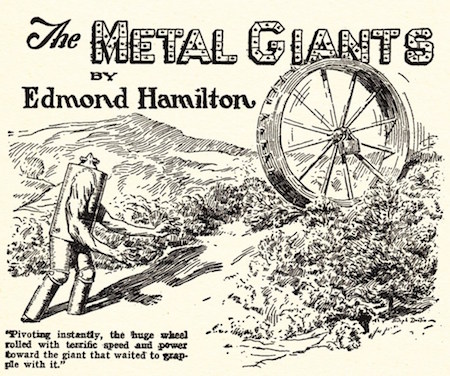 (Giant robot confronts giant wheel)
With unexpected, lightning rapidity, the larger machine swerved to one side, then, pivoting instantly, rolled with terrific speed and power toward the erect giant, striking it with a deafening crash. The fighting-machine went down, and as the huge wheel rolled over it there was a cracking of metal, and the thing lay broken and harmless.
...as it passed near Lanier, he saw the tiny figure of a man at the box-structure at the hub, saw Detmold, intent on the control of the giant mechanism; and then the wheel had rolled past him and was moving slowly toward the metal platform and the fighting giant beside it.