Some years ago the need of a machine which would dress persons on arising from bed, make their toilet and prepare them for breakfast, or a stroll on the street, was generally felt.

Several attempts were made to supply this want, but nothing was perfected until M. Pantalon announced the completion of his automatic valet. This machine was shaped very much like an ordinary man, except that it was built on an absolutely square plan. There were two upholstered legs, on which reposed a heavy, square chest, and above the chest was the head, also square and resembling a block.

The machinery was directly in the center of the body-chest, controlling the movement of the legs and arms, the latter being round, four jointed and twenty-seven inches long. Instead of a face, the head bore a dial, on which the hour was depicted. The whole valet was wound up by a small crank in the back. If a man wished to be aroused, at, let it be said, 8 o'clock in the morning, he adjusted the alarm button on a small dial on the face of the large clock at that hour.

After turning on the water the valet moved back to the bed, threw the covers aside, and with one of its automatic arms gently lifted the man from his resting place, conveyed him to the bath-room, laid his night robes aside and immersed him. The bath completed, the valet drew from its chest-cupboard two fresh-towels, with which it briskly rubbed the bather, and then again lifting him up carried him back into the bedroom, where it proceeded to dress him in clothes which had been laid in a certain place the night before.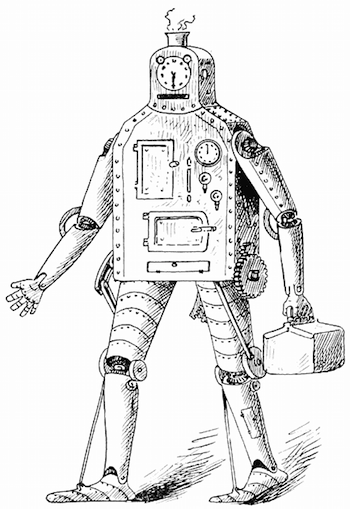 (Automatic Valet from 'Looking Forward' by Arthur Bird)
From its automatic chest the valet took comb, brush and whisk broom, and in less time than would be ordinarily consumed in telling about it, the toilet was completed. A feature of the invention, as perfected by Pantalon, was the arrangement on the time dial by which the speed of the valet could be regulated, and a man could be dressed quickly or slowly, as he preferred. For busy men, M. Pantalon has invented valets that do the business in less than three minutes, including bath. The chief value of these valets is that, not being human, they cannot gossip, and every man may become a hero to his valet, provided the valet is automatic.