Hanging between those motionless cylinders of red and violet light was a strange-looking, greenish globe. A round ball, nearly a yard in diameter, hung between the rays, almost touching them. Its surface was oddly splotched with darker and lighter areas. It was spinning steadily, at a low rate of speed. Larry did not see what held it up; it seemed hanging free, several feet above the crystal platforms....

A tiny planet!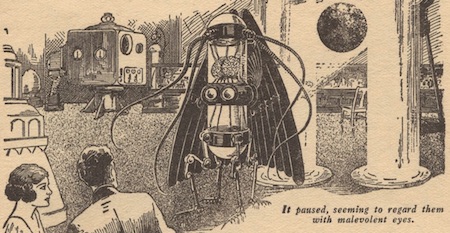 (The laboratory world from 'The Pygmy Planet' by Jack Williamson)
His mind quickened at the idea, and he half forgot the weird mystery gathering about him. He stepped nearer the sphere. It was curiously like a miniature world. The irregular bluish areas would be seas; the green and the brown spaces land. In some parts, the surface appeared mistily obscured—perhaps, by masses of cloud.
Larry saw an odd-looking lamp, set perhaps ten feet behind the slowly spinning, floating ball, throwing upon it a bright ray of vividly blue light. Half the strange sphere was brilliantly illuminated by it; the rest was in comparative darkness. That blue lamp, it came to Larry, lit the sphere as the sun lights the earth.
"Nonsense!" he muttered. "It's impossible!"
Aroused by the seeming wonder of it, he was drawn nearer the ball. It spun rather slowly, Larry noted, and each rotation consumed several seconds. He could distinguish green patches that might be forests, and thin, silvery lines that looked like rivers, and broad, red-brown areas that must be deserts, and the broad blue stretches that suggested oceans.
"A toy world!" he cried. "A laboratory planet!..."
"Yes, it is a planet. The Pygmy Planet, Dr. Whiting called it. He said it was the great experiment of the century. You see, he was testing evolution. We began with the planet, young and hot, and watched it until it is now almost as old as Mars. We watched the change and development of life upon it. And the rise and decay of a strange civilization. Until now its people are strange things, with human brains in mechanical bodies, worshiping a rusty machine like a god—"