Science Fiction Dictionary
A B C D E F G H I J K L M N O P Q R S T U V W X Y Z
Latest By
Category:

Armor
Artificial Intelligence
Biology
Clothing
Communication
Computers
Culture
Data Storage
Displays
Engineering
Entertainment
Food
Input Devices
Lifestyle
Living Space
Manufacturing
Material
Media
Medical
Miscellaneous
Robotics
Security
Space Tech
Spacecraft
Surveillance
Transportation
Travel
Vehicle
Virtual Person
Warfare
Weapon
Work
"Writing about the future, I have a vested interest in there being a future for me to write about."
- John Brunner

| | | |
| --- | --- | --- |
| | Robot Mother | |
| | A self-replicating robot, which creates a series of helper bots that adapt to conditions as needed. | |

In the story, Dan Burman is a famed inventor of a variety of machines. However, his friend Bill discovers that, in fact, Burman has invented only one machine - a psychophone that allows him to visit a kind of future.
In this future era, human beings are clearly dominated by machines. Burman brings back the blueprints for an unusual invention, one whose function is not immediately obvious.
It was a stunner. The thing was a metal box with a glossy, rhodium-plated surface. In general size and shape it bore a faint resemblance to an upended coffin, and had the same, brooding, ominous air of a casket waiting for its owner to give up the ghost.

There were a couple of small glass windows in its front through which could be seen a multitude of wheels as beautifully finished as those in a first-class watch. Elsewhere, several tiny lenses stared with sphinx-like indifference. There were three small trapdoors in one side, two in the other, and a large one in the front. From the top, two knobbed rods of metal stuuck up like goat's horns, adding a satanic touch to the thing's vague air of yearning midnight burial.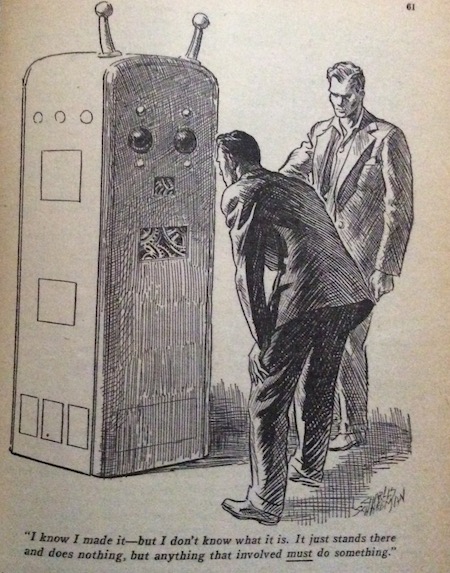 "These are its innards. It has an electric circuit, valves, condensers, and something that I can't quite understand, but which I suspect to be a tiny, extremely efficient electric furnace. It has parts I recognize as cog-cutters and pinion-shapers. It embodies several small-scale multiple stampers, apparently for dealing with sheet metal. There are vague suggestions of an assembly line ending in that large compartment shielded by the door in front..."
Technovelgy from The Mechanical Mice, by Maurice G. Hugi.
Published by Astounding Stories in 1941
Additional resources -
The machine does not sit still for long. It appears to have no starting handle of any kind; however, it soon initiates its own activity. In time, it sends out small mechanical mice, which are described as "golden shuttles", to obtain necessary materials.
After a number of skirmishes with the inventor, as well as the local police, the malevolent machine is destroyed. Or is it?
He said, "The Robot Mother! That's what I made - a duplicate of the Robot Mother. I didn't realize it, but I was patiently building the most dangerous thing in creation, a thing that is a terrible menace because it shares with mankind the ability to propagate. Thank Heaven we stopped it in time!"

..."Did you notice," I went on, "the touch of bee-psychology in our antagonists? You built the hive, and from it emerged workers, warriors, and" - I indicated the dead saunterer - "one drone."

With a sigh of relief, I strolled toward the door. A high whine of midget motors drew my startled attention downward. While Butman and I stared aghast, a golden shuttle slid easily through one of the rat holes, sensed the death of the Robot Mother and scooted back through the other hole before I could stop it...

"Bill," [Burman] mouthed, "your bee analogy was perfect. Don't you understand? There's another swarm! A queen got loose!"
This is a very early use of the concept of a robot or system that is capable of reproducing itself perfectly. The first scientist to write about self-reproducing automata was John von Neumann, who delivered a lecture in 1948 called "General and Logical Theory of Automata" at a symposium in Pasadena, California. One of the questions he posed was whether or not it was possible for a machine to fabricate a copy of itself.
Can one build an aggregate out of such elements in such a manner that if it is put into a reservoir, in which there float all these elements in large numbers, it will then begin to construct other aggregates, each of which will at the end turn out to be another automaton exactly like the original one?
In the Mechanical Mice story, the author clearly sees the Robot Mother as constructing duplicates of itself using available parts (stealing them from watches). It appears that Maurice A. Huigi and Eric Frank Russell anticipated von Neumann's question by a handful of years.

It is possible that Russell got his idea the same place von Neumman apparently did, from the work of the English mathematician Alan Turing. Turing's theory of computing automata (published in 1936) introduced the notion of a "universal automaton" that was able to reproduce any programmed output of any possible automaton. However, Turing's ideas only covered computing output (1's and 0's); von Neumann was talking about automata the output of which was other automata.

Comment/Join this discussion ( 1 ) | RSS/XML | Blog This |

Additional resources:
More Ideas and Technology from The Mechanical Mice
More Ideas and Technology by Maurice G. Hugi
Tech news articles related to The Mechanical Mice
Tech news articles related to works by Maurice G. Hugi

Robot Mother-related news articles:
- Defending Against Harmful Nanotechnology
- RepRap Machine Can (Almost) Duplicate Itself
- Mother Robot Evolves Her Children
- Not Quite Self-Replicating Robots, Franka Emika
- Design Your Own Robot (Carefully)


Articles related to Artificial Intelligence

Want to Contribute an Item? It's easy:
Get the name of the item, a quote, the book's name and the author's name, and Add it here.

Science Fiction Timeline
1600-1899
1900-1939
1940's 1950's
1960's 1970's
1980's 1990's
2000's 2010's