Freddie opened his apparatus and explained it briefly. His so-called thermodyne principle. Though ultimately he had hoped to adapt it into a motor of revolutionary design, his present model was merely a small projector.

"Projector of what?" demanded the President irritably.

"Of heat, sir," Freddie answered. "I'll show you. This is a very small model, of course, but it demonstrates the principle."

They did not want any technicalities from Freddie. He explained only that his apparatus, in this present small form, took a tiny electric spark and built it up. into a new form of radiant heat.

"It is," said Freddie, "heat of totally different properties from the kind with which we commonly deal. It travels — radiates, by the diffusion of its electrons, more like light than heat. At a great speed — I think possibly, at over a hundred thousand miles a second."

He opened his apparatus. It consisted of a small, flat, metallic box, curved to fit a man's chest. A disk, like a small electrode, to be pressed against the skin. Freddie bared his chest and strapped it on.

"I use," he said, "the tiny electrical impulse which the human body itself furnishes. This, I amplify, build up and store in a battery." Wires from the generator led to a small box which he opened to show his audience—a box of coils, and a tiny row of amplifying tubes. He put this in his pocket, with wires leading to the battety and the projector. These were both in one piece—the projector a small metallic funnel, with a trigger; a grid of wires was across its opened end; it had a long metallic handle, in the hollow interior of which was the battery where the charge was concentrated.

"Electrons of heat under pressure," said Freddie.

"Show us," said someone.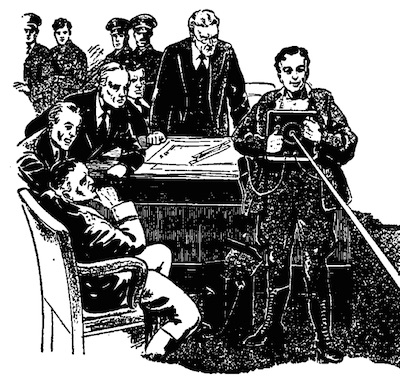 (Heat ray)
Freddie erected a screen across the room—an insulating screen to kill the heat-beam so that it could not injure the wall. The men moved aside. Freddie, after a moment to generate and concentrate the charge, raised the muzzle.
The thing.hissed slightly; a dull violet beam sprang like light from the projector. It struck the screen some twenty feet away, in a large circle of fluorescence; in the dimness of the room it seemed like phosphorescent water, landing in a spray and dissipating as it struck, like a dissolving mist.
Freddie cried, "Peter, hold something in it!"
I took a sheet of paper, held it carefully into the beam. It shriveled, blackened and burst into flame. Then a lead pencil—it melted off midway of its length as I held it up.
Freddie snapped off the apparatus. "That's all, gentlemen. With a large model, I would use a high voltage current for my original impulse, instead of the tiny impulse of the human body."