All that night Bob wrestled with the question — to add weight without inertia. It seemed a paradox, but at the back of his mind he was sure there must be a solution apart from the question of a gravity attractor...

"Don't you see, sir; once you set a heavy wheel spinning, it strongly resists a change in its plane of rotation. Take a gyroscope big enough and fast enough. Couple one side of its cradle to the axle of a car and then, as you apply brakes, increase the length of the coupling arm by any sort of toggle. The gyroscope refuses to change its plane, and so the wheels are forced down by the toggle lever and you get as much friction as the tires will stand!"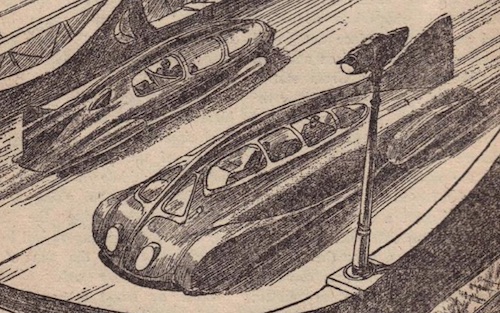 (Gyrocars from 'Photo Control' by Bernard Brown)
The greatest problem of all was the elimination of the human element of braking together with its inevitable time lag. It was all very well to design and develop super-efficient brakes, but even they would be of very little use in preventing accidents it put under the control of any Tom, Dick or Harry, who had enough money to buy a car...
To tht front two curiously shaped headlamps were placed at the lateral extremities on a complicated swivelling arrangement. Bob noted further that these apparent lamps were twisted slightly inwards and instead of pointing towards the ground were directed straight out.
"Actually they are carefully prepared and focussed tele-lenses at the back of each of which is situated one of the new ribidium photo-electric cells."
"These are always trained ahead of the car and Inwards to an extent depending on the speed. Actually their mountings are coupled indirectly to the road wheels so that the faster the wheels rotate the lesser is the angle subtended between the two sets of lenses. In other words the faster the car goes the further away is the point of intersection of the two beams."
"As the thing stands now photo-electric cells are placed behind the tenses and as soon as any body falls within the zone of safety the photo-cells are affected and, operating on a relay, apply the brakes to the full."