I don't know how to describe the walker wagon—maybe you've seen pictures since. If a centipede were a dinosaur and made of metal to boot, it would be a walker wagon. The body of it was a sort of trough and it was supported by thirty-eight legs, nineteen on a side.

"That," I said, "is the craziest contraption I ever laid eyes on. You'll never shove it out the door."

...He led me around to the end of the contraption; the trough came nearly down to the floor in back. Hank helped me get inside, told me to lie down, and went up to the other end. "The guy that built this," he said, "must have been a hump-backed midget with four arms. Hang on."

He poked a finger deep into a hole.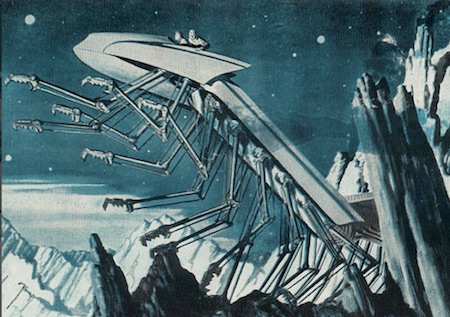 (Walker Wagon from Farmer in the Sky)
The thing began to move, silently, gently, without any fuss. When we came out into the sunshine, Hank pulled his finger out of the hole. I sat up. The thing was two thirds out of the cave and the front end was beyond the crystals...
He tried other holes more cautiously. At last he found one which caused the machine to rear up its front end slightly and swing it to the left, like a caterpillar. "Now we are in business," he said happily. "I can steer it." We started down the canyon.
Hank was not entirely correct in thinking he could guide it. It was more like guiding a horse than a machine—or perhaps more like guiding one of those new groundmobiles with the semi-automatic steering. The walker wagon came to the little natural bridge of ice through which the crystals passed and stopped of itself. Hank tried to get it to go through the opening, which was large enough; it would have none of it. The front end cast around like a dog sniffing, then eased gradually up hill and around the ice.
It stayed level; apparently it could adjust its legs...
We headed on toward camp. "This," Hank announced happily, "is the greatest cross-country, rough-terrain vehicle ever built. I wish I knew what makes it go. If I had the patent on this thing, I'd be rich."